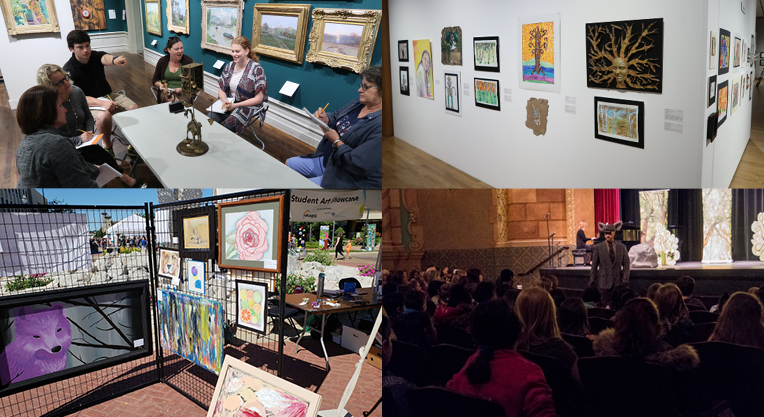 Arts Education
An education in the arts helps students learn to identify, appreciate, and participate in the traditional art form of their own communities. As students imagine, create, and reflect, they are developing both the verbal and nonverbal abilities necessary for school progress.
Professional Development
Throughout the year, the MAISD holds professional development offerings for all subjects, including the arts. To view offerings and register, visit the Professional Development page.
Student Programs
Expressions Annual Student Art Exhibit
This exhibition is held each spring at the Muskegon Museum of Art. Student artwork from public, charter, and non-public schools of Muskegon County are represented.
For more information, contact Joel Selby to be added to the mailing list.
Performances for Students
The MAISD assists in the coordination and delivery of certain student concerts.
For 2018-19, these concerts include:
Arts Midwest World Fest - International Music Artists

December 10, 2018 - Israeli ensemble led by Sofi Tsedaka (Canceled)
February 1, 2019 - Japanese Taiko and Shakuhachi ensemble

Muskegon Community Concert Association - Indy Opera Ensemble presents Children's Opera (March 2019)
Additional offerings as available
For more information, contact Joel Selby to be added to the mailing list.
West Michigan Student Showcase
West Michigan Student Showcase is an annual celebration of excellence for high school youth of West Michigan. Students are selected by their respective schools in the areas of academics, athletics, literary arts, performing arts, and visual arts. Since 1981, high school students from Mason, Muskegon, Newaygo, Oceana, and Ottawa counties have had an opportunity to be recognized.
For more information on Showcase, visit www.WestMIShowcase.org.
WINGS Summer Enrichment Program
WINGS is an MAISD and Muskegon Community College (MCC) co-sponsored program that provides in-depth summer study experiences for students in grades K-7 who show exceptional interest and/or talent in focused subjects. Many of the classes offered involve the arts.
Find out more about WINGS at www.SummerWINGS.org.