Curriculum Resources
Curriculum, Assessment, and Instruction
MAISD Curriculum Support Page for Social Studies
PASST - Performance Assessment for Social Studies Thinking tied to the Michigan Content Expectations and driven by the College, Career, and Civic Life Framework
Michigan Open Book Project digital textbooks tied to Michigan Content Expectations

Resources for We the People: The Citizen and the Constitution Teachers

For more resources or to learn more about We the People and other Civic Education Programs, visit
The Center for Civic Education.

Project Citizen
| | |
| --- | --- |
| Want to help your students change the world? Project Citizen will teach them a step-by-step method for changing public policy. | |


Persuasive Writing Rubrics for Classroom Use
These analytic rubrics are super easy to use with students. They provide praise, feedback, and guidance in kid-friendly language and the scoring guide can be modified to emphasize the areas you want students to work on the most.


Economics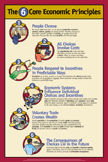 Still the best poster for keeping the 6 Core Economic Principles in front of your students everyday so they can integrate them into real life. The 6 Core Economic Principles represent six powerful ideas that explain the economic behavior of people.
You and your students will discover new insights as you apply these principles to all the choices people make in the study of: economics, history, geography, government, civics & psychology. Order today!

Check out our latest resource for economics - EconAround Bingo will help your students use the economic way of thinking and understanding economic terms.