REAL Science
A Community Partnership Shaping Successful Futures
Resources for Authentic Learning in Science
Resources for Authentic Learning in Science is a community partnership established to purchase modern scientific instruments and provide teacher training and support to ensure a powerful, real-world science experience for all students. The instruments, equal to those in today's workplace, are rotated through participating high schools, achieving an economy of scale not only for equipment purchases, but also for the associated professional development and curriculum support.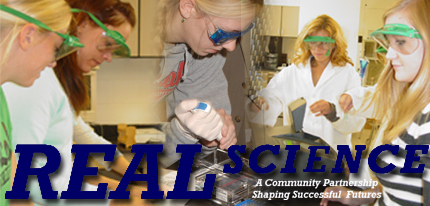 REAL Science participation will result in teachers with training to design and deliver real-world learning experiences, and high school students with the skills and knowledge necessary to perform modern laboratory science.
Students will also have a greater interest in, and be more prepared to enter STEM (science, technology, engineering, and mathematics) programs at community colleges and universities.
REAL Science emerged from a 2003 community task force study on the state of high school laboratory science in Muskegon County and has received financial support from every sector of the community.
Contributors:

The Community Foundation for Muskegon County
The Thomas & Geraldine Seyferth Fund
The Muskegon County Medical Society Fund
The House Family Foundation
The Osteopathic Foundation of West Michigan
The William Jackson Family
The Alcoa Foundation
The Dave Krebs Family
The Pam Turner Family
Stanley & Barbara Miller
Robert & Elizabeth Cutler