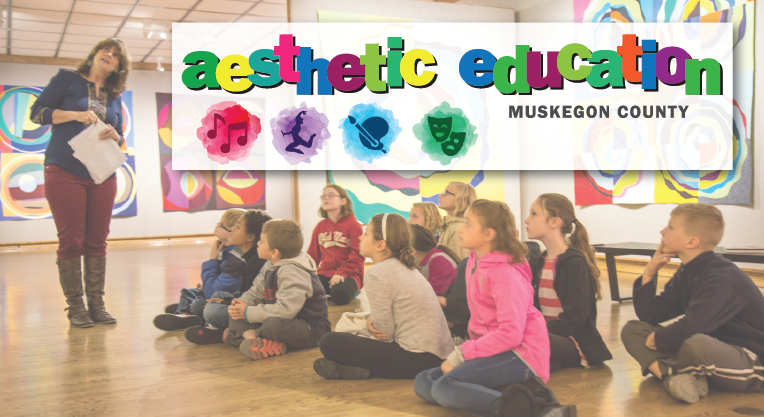 Aesthetic Education
Founded by the Lincoln Center for the Performing Arts in New York, Aesthetic Education provides classroom teachers with a method to implement inquiry-based, experiential units of study around specific works of art with the support of Teaching Artists. Through participatory activities and reflections, students further develop their capacities for observation, analysis, questioning, and meaning-making, allowing them to deeply engage and experience works of art while making connections to their personal experiences, the outside world, and beyond.
Vision: An educational environment in which art communities and educators come together to transform students into creative, problem-solving, lifelong learners and lovers of the arts.
Mission: Provide inquiry-based learning experiences for students that harness the power of Muskegon County's rich art resources and communities.
Teaching Artists Needed
We are currently seeking Teaching Artists to help facilitate in-classroom activities in the areas of music and visual art. Please visit our Application for Aesthetic Education Teaching Artists for more information and to apply! New music applicants would attend training in December 2018 and start serving in 2019.
Training
The Aesthetic Education program requires attendance at a summer institute for both classroom teachers and teaching artists before they can participate in the program.
The next cohort of teachers and training artists will be recruited in early 2020.
Authentic Arts Experiences
Music
Arts Midwest presents Israeli ensemble "Sofi and the Baladis" - December 10, 2018 (Canceled)
Arts Midwest presents Japanese ensemble "Ondekoza" - February 1, 2019
West Michigan Symphony Resident Artists - To Be Determined
Theater/Opera
MCC Center for Theater presents "Animal Farm" - Fall/Winter 2018-19
MCCA Presents: Indy Opera Resident Artists in Children's Opera - March 26 & 27, 2019
MCCA Presents: Indy Opera Resident Artists with a traditional opera medley - March 27, 2019
Visual Arts
MMA Exhibition: Fantastical Menagerie by Nat Rosales - October 18, 2018, through January 13, 2019
MMA Exhibition: A+ for Educators: Illustrations by Patricia Polacco - January 31 through May 12, 2019
Resources
Community Partners and Sponsors