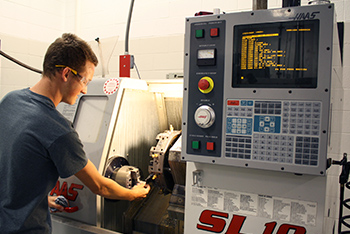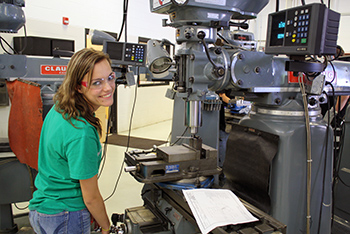 Machining/Engineering Technology
Machinists make up the majority of workers in the metalworking trades, and create parts for machinery, transportation, printing, and paper companies. Students learn to set up the machines, operate the controls, and check the accuracy of their work. They are also taught how to shape metal parts to precise dimensions, and will gain skills using a variety of hand and electric tools including lathes, milling machines, grinders, drill presses, saws, and CNC machines. Successful graduates of this class may choose to go directly into the workforce or further their education through college or technical school.
For more information on this program download a Machining/Engineering Technology brochure.

Academic Credit
Students who successfully complete this course may be eligible for the following academic credit (See your high school counselor for more information.): Math, Visual/Performing Arts, 20-hour Online Experience.
Articulated College Credit
Students who successfully complete this course may receive articulated college credit to the following schools: Baker College, Davenport University, Ferris State University, Grand Rapids Community College, and Muskegon Community College. For information on how to earn articulated credit contact Mrs. Pulsipher at the MACTC.
Direct College Credit
Students who successfully complete the Machining/Engineering Technology program may receive direct college credit to Muskegon Community College. A list of classes that offer direct credit may be found here.
Meet the instructors
The teachers and parapros at the Muskegon Area Career Tech Center (MACTC) all come from the industry they now teach.
Instructor: Brent Nummerdor
Bio: Mr. N (as his students know him) is a graduate of Reeths-Puffer High School, as well as Ferris State University, and Muskegon Community College. His work experience includes teaching machining to adult and alternative high school students, serving as a Dean of Students at Muskegon Community Ed, and later as a machining instructor at the Newago Career Tech Center. He then moved back "home" to teach the Machining/Engineering Technology program here. Mr. N enjoys spending time with his wife and two children, camping, boating, fishing, and shoveling snow (he finds it cathartic)! He also recognizes his geekiness, and in fact, revels in it.
Parapro: Allen Wahr