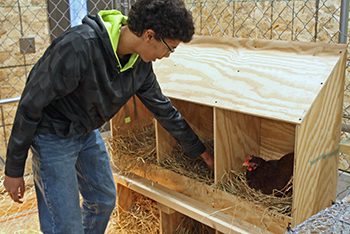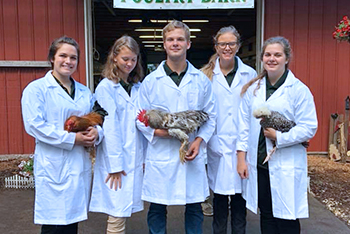 Environmental/Veterinary Science
Environmental/Veterinary Science focuses on animals, plants, the outdoors, and more. Students learn about animal health, anatomy and physiology, and reproduction in class and in the barn. In the greenhouse, students practice plant propagation and how to proper plant care. Outdoors, students explore organisms a local stream, practice landscaping in our student designed garden, and tap maple trees to make maple syrup. Students also experience basic beekeeping, collect eggs from our chickens, practice rabbit showmanship, and create and sell beautiful floral creations in The Petal Shop.

All students are members of the National FFA Organization where they apply their knowledge beyond the classroom. Members have the opportunity to travel for local and national conventions where they can compete to win a variety of awards. They may also apply for over $2,000,000 in scholarships. Members even have the opportunity to show rabbits, chickens, or other animals at the Muskegon County Fair in July.

Second-year students may choose a more in depth study of a specific area such as pet grooming, veterinary science, floral design, greenhouse management, landscape design, and more. Job shadow and internships opportunities are also available.

Certification in floral design, pet grooming, pesticide application, and nursery and landscaping are available. Second-year students who complete their FFA State Degree will also earn six credits from Michigan State University.
For more information on this program download an Environmental/Veterinary Science brochure.
Certifications
Canine Care and Training Certificate
Career Preparedness Certification
CPR
Certified Green Industry Professional
Ecology Conservation & Management Certification
Fundamentals of Animal Science Certification
Michigan Certified Florist
OSHA General Industry - Agriculture 10-hour Training
Plant Science Certification
Principles of Floral Design Certification
Principles of Livestock Selection & Evaluation Certification
Veterinary Medical Applications Certification
Academic Credit
Students who successfully complete this course may be eligible for the following academic credit (See your high school counselor for more information.): English, Visual Performing & Applied Arts.
Articulated College Credit
Students who successfully complete this course may receive articulated college credit to the following school: Davenport University. Students who successfully complete their FFA State Degree may earn six credits to Michigan State University. For information on how to earn articulated credit contact Mrs. Pulsipher at the CTC.
Direct College Credit
Students who successfully complete select CTC courses may receive direct college credit to specific colleges and universities. Direct credit is currently unavailable for this program. A list of classes that offer direct credit may be found here.
Meet the instructors
The teachers and parapros at the Career Tech Center (CTC) all come from the industry they now teach.
Instructor: Jennifer Glombowski
Bio:
Mrs. Glombowski graduated from Elk Rapids High School and went on to earn her BS in Agriscience Education and MS in Agricultural and Extension Education from Michigan State University. She also has her MS in Advanced Content Specialization in Science from Grand Valley State University. In her free time she enjoys hanging out with her family and snuggling with her three Pit Bulls.
Paraprofessional: Mikayla Gerwig
Bio: Mikayla is a graduate of Ravenna High School. After graduation she attended Michigan State University to study Livestock Industries. She is currently attending Muskegon Community College to complete her associate degree in agriculture. In her free time she raises club lambs, exhibition poultry, and show pigs. She enjoys showing animals and hanging out with her family.