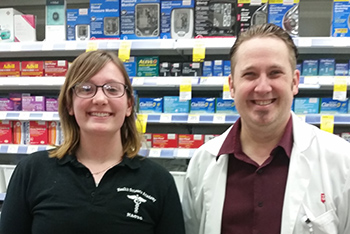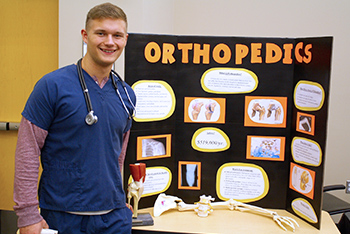 Health Science Academy
This intensive introductory course prepares students for in-demand health careers. Students study basic patient care skills such as transfer/gait training, therapeutic activities, and patient positioning. Certifications offered include CPR/AED, First Aid, HIPPA, and Bloodborne Pathogens. Medical job shadowing opportunities may also be available. Students successfully completing the first year Allied Health program may enroll in the Health Science Academy for more in-depth study year two.
For more information on this program download a Health Science Academy brochure.
Certifications
Automated External Defibrillator (AED)
Basic Life Support Provider
Cardiopulmonary Resuscitation (CPR)
First Aid
HIPPA/Bloodborne Pathogen
Nursing Assistant
Pharmacy Technician
Academic Credit
Students who successfully complete this course may be eligible for the following academic credit (See your high school counselor for more information.): English, Math (if students successfully complete the optional Pharmacy Tech certification), Visual/Performing Arts.
Articulated College Credit
Students who successfully complete this course may receive articulated college credit to the following schools: Baker College, Davenport University, Ferris State University, and Grand Rapids Community College. For information on how to earn articulated credit contact Mrs. Pulsipher at the CTC.
Direct College Credit
Students who successfully complete the Health Science Academy program may receive direct college credit to Muskegon Community College. A list of classes that offer direct credit may be found here.
Meet the instructor
The teachers and parapros at the Career Tech Center (CTC) all come from the industry they now teach.
Instructor HSA 1: Kathy Andrews
Bio: Mrs. Andrews has a Bachelor's of Science degree from Wayne State University and a Master's degree in Educational Leadership from Western Michigan University. She also served as the Occupational Therapy Assistant Department Chair at Baker College and adjunct instructor at Muskegon Community College. In addition to teaching, she has a clinical background in inpatient/outpatient, rehab, and work-reconditioning settings. She loves hanging out with family and enjoys the beach and traveling.
Instructor HSA 2: Shannon Rowley
Bio: Mrs. Rowley is a graduate of Spring Lake High School as well as Baker College and Central Michigan University. She has worked as an Exercise Physiologist/Physical Therapist Assistant, has 15 years of clinical experience in Acute and Long Term Care settings, and has served as an Instructor/Lab assistant at Baker College (part-time) in the Physical Therapist Assistant program. In her free time she enjoys spending time with her husband and three children as well as fitness, skiing, and keeping active.